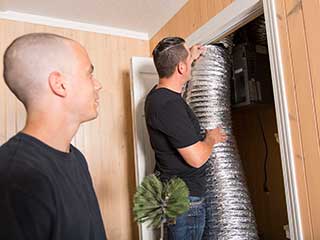 Don't Settle For Bad Air Quality!
Whether you have loved ones who have trouble breathing to begin with, or simply have allergies, it's vitally important to get your air ducts cleaned. They work hard nearly year around to provide your house with heat and air conditioning, and this process draws in all kinds of dirt and allergens that build up over time.
In fact, the EPA estimates there can be up to 40 pounds of these substances clogging your duct. This is a huge drain on energy, as it takes far more of it to force air through. On top of that, these build ups can start to cause mold and bacteria to grow over time.
All of these substances are then distributed back into your home to be breathed in by you and your family. This can mean something as small as itchy eyes and noses from allergies, or a decline in health for those with breathing disorders like asthma. Even if you're free of any of these issues, poor air quality still causes fatigue, so no matter what it's bad for your home.
An Air Duct Cleaning Can Help!
Our team is equipped with the tools needed to clear out your air ducts and get them, and subsequently your air, fresh. We'll use an agitator to dislocate all of the gunk that has stored up over time, and then use a vacuum to suck it all up safely. They'll be as spotless as they were when they were first installed, and you won't have to worry about all that loosened dirt finding its way into your home.
Certainly, you want someone you can trust to take on a job that involves your family's health. Our company has been hard at work in Los Angeles for years, so you can count on our dedication to the area and our customers. Our experts have done countless jobs in homes just like yours so you can be sure that there's nothing that they can't handle.
What Are You Waiting For?
You don't want your loved ones to be breathing in poor quality air, and neither do we! Call Air Duct Cleaning Los Angeles now to find out how we can help you get it fresh throughout your home again. Contact us today! You'll be glad that you did.