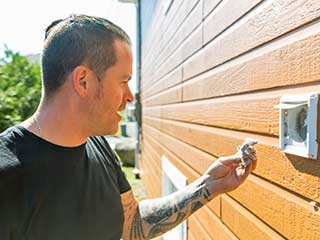 Signs Your Vent Needs Cleaning!
While you should be getting your dryer's vent cleared out regularly no matter what, there are some signals that it's a pressing issue that needs to be taken care of ASAP! If you can clearly see lint clogging it up, that's certainly an obvious indication, but there's others as well. You may notice a burning smell while it's running, in which case you need to stop it immediately! It means the lint that's built up may be starting to burn. Have you noticed it takes far longer than it used to for your clothes to dry? This is because it's harder for the air to get through to dry your clothes and is another sign that it needs to be taken care of.
Reasons You Should!
Leaving your dryer's vent choked up with lint can put a strain on your energy bill, as it takes much more energy to get your clothes cleaned. The air has to force its way through the build-up of materials, again causing that delayed drying time, and wasting energy in the process. Getting it cleaned is a great step towards lowering those costs!
All the more worrisome, however, is the fact that it's a fire risk. The lint and dust can begin to burn from the high temperatures used to dry your clothes, and this can spark a flame if it goes untended to. It's best to be safe, and get it cleared out!
We Can Take Care Of It!
Our experts are happy to come out and give your dryer's vent a thorough cleaning to get all of that lint and otherwise cleared out and leave it as good as new! We'll use the best tools that will get it done fast so we're out of the way in no time, and thoroughly as well.
Why Wait Any Longer?
Don't let your energy spending suffer, or your house be at risk! Instead, call Air Duct Cleaning Los Angeles now, and we'll handle it for you.
Need more? We also provide:
Fire Place & Chimney Cleaning
Increase Dryer Efficiency